Superpositions Gallery Exhibition Opening
Thursday,

Nov 21, 2019

6 PM - 8 PM

PDT
|
Perloff Hall Gallery, 1317 Perloff Hall
Los Angeles, CA, US
EVENT RESCHEDULED: Due to the Getty Fire, the Superpositions Opening Reception has been rescheduled to Thursday, November 21 from 6-8 PM.
A joint exhibition from Katy Barkan and Gabriel Fries-Briggs around the theme of "superposition" on display in the Perloff Hall Gallery.
Don't miss the Gallery Talk with Katy Barkan, Gabriel Fries-Briggs and UCLA AUD Acting Assistant Professor, Cristobal Amunategui at 6:30 PM. 
Superposition spatializes an interest in simultaneity and overlap—both conceptual and material. The joint exhibition questions the threshold between architectural objecthood and its spatial corollaries, skirting a clear boundary between the production of things and the production of environments. An overlap of parts define reshuffled wholes, delineating without enclosing, and whose constitutive elements exist in multiple states at once. Superposition, as a model of working, does not attempt to resolve or reconcile. Rather, it serves as a counterpoint to the paradigms of synthesis on the one hand, or juxtaposition on the other. The overlay of multiple categories of work and multiple authors allows for category errors, transpositions, and irresoluble differences.
Katy Barkan:

Reshuffling hierarchies of support and display, form and representation, ground and ornament, this installation unfolds composite readings of space. Here, the L-shaped walls of the gallery are proliferated as a series of Homasote figures that loosely organize and reorganize the establishing spatial sequences of the gallery. Architectural fragments cast eccentric projections about the space that run counter to the logics and forms of their origin. Disobedient carpeted shadows take on spatial and material effects of their own; occupying, domesticating, ornamenting. Claiming territories inside and outside of those set up by the exhibition walls, these superposed systems of thought don't strictly add up, but rather compound and refract to amplify, distort, and undermine one another in unequal measure producing divergent architectural objects and alternative gestalts.
Katy Barkan (@nownowherehere) is a Los Angeles based designer and a Lecturer at UCLA AUD. Her office, Now Here, works to transgress the distinctions between buildings, objects, texts, drawings, and interiors, to imagine alternative engagements with architecture.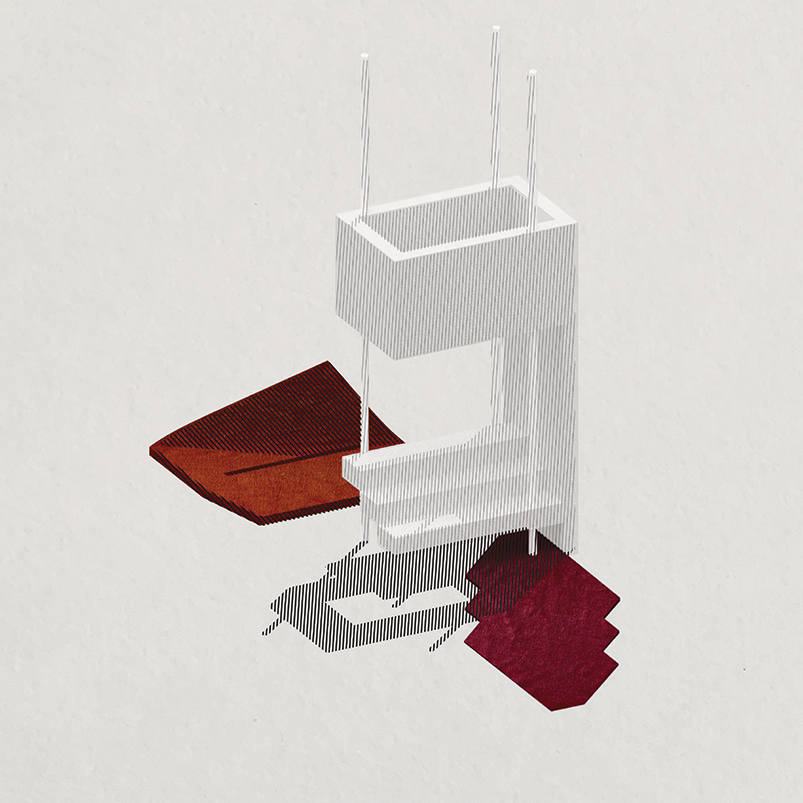 Design Team: Katy Barkan, Sarah Caluag, Hannah Hortick, Sana Jahani, Casey Knudsen, Nick Miller
Gabriel Fries-Briggs:

Contemporary forms of imaging fuse an instrumentality in production with an embeddedness in physical form—less images of work than images in work. As a technique of abstraction, imaging makes qualities portable, destabilizing boundaries between production, representation, performance, and material artefacts. This installation exploits the effects of imaging to reshuffle landscape, environment, and building systems. A ductscape acts as a prosthetic device for the gallery's HVAC system. The refashioning of conventional MEP equipment inserts a vision of air as reflected landscape, amplifying existing systems for tempering and conditioning the architectural exhibition venue. The ductscape draws on desert scenery as already commodified landscapes—widely distributed images of nature that serve as a backdrop to common computing platforms. The image of a dune-as-duct interprets the ceiling as an environment full of labor, design, and perhaps delight, or, at the very least, comfort. It considers the overhead site as a productive plenum for architectural positions. Gabriel Fries-Briggs (@gabriel.f_b) is an architectural designer and Assistant Professor at the University of New Mexico School of Architecture and Planning. He is the director of Descriptive Services, an architectural practice exploring imaging culture, material processes, and contemporary techniques of description.Design Team: Gabriel Fries-Briggs, Aubrey Bauer, Phillip Brown, William Lyons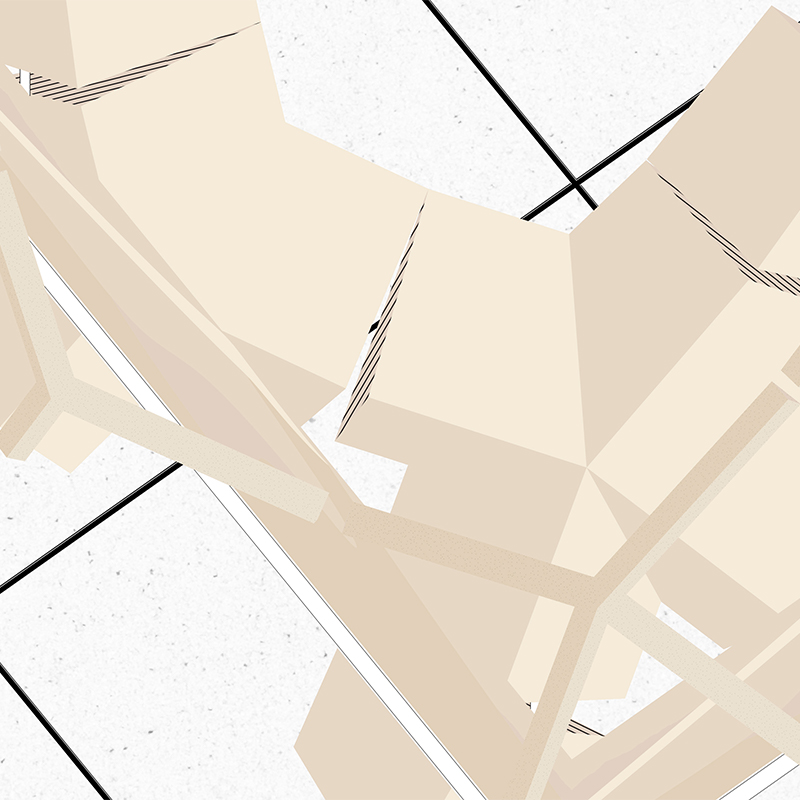 Design Team: Gabriel Fries-Briggs, Aubrey Bauer, Phillip Brown, William Lyons
Exhibition Details:
The exhibition will be on view through December 13 in the Perloff Hall Gallery on UCLA's Westwood campus in Los Angeles.
Gallery Hours: 8 AM - 5 PM, Mon-Fri
Short-term parking options are available in lots and structures located throughout campus. For more parking information, visit transportation.ucla.edu/campus-parking.
Questions? Call us at 310.825.7857